From the fragrant aromas of India to the spices of Thailand, our rice dishes will keep you wanting more! Make your dish exactly how you want it; white or brown rice and lots of vegan, vegetarian and gluten friendly options!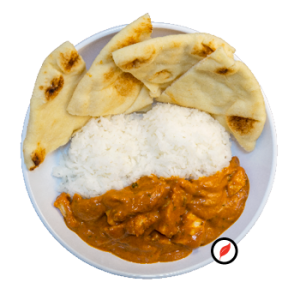 MASALA BUTTER CHICKEN W/ NAAN
North America's staple curry. Always fragrant and ever popular, the decadent name is matched only by its creamy flavour. Made with masala spices over a bed of either brown* or white rice and a side of Naan bread.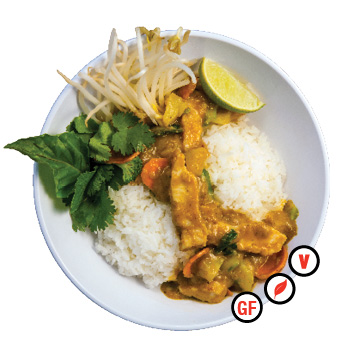 JUNGLE LEMONGRASS
Feed the inner heat demon inside you with our Thai yellow curry. A base of lip licking lemongrass curry over white or brown rice* and Asian veggies like bok choy and to top it off, pieces of pineapple and fresh herbs.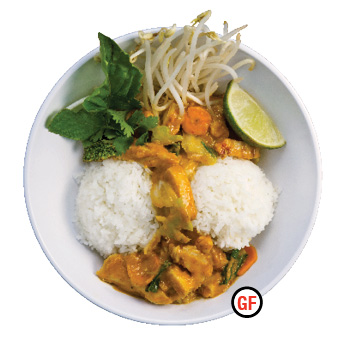 THAI RED
Red usually means to stop but after just one bite of our Thai Red you won't want to and you don't have to either! Our coconut and chili curry with Asian veggies and your choice or protein brings the heat without setting your mouth on fire.
KOREAN BEEF BULGOGI
One for our anti-gluten friends, inspired by Korean moms everywhere. Wok fried beef covered in a light ginger and sweet soy sauce over a bed of brown* or white rice with crisp carrots.
BREADED CRISPY CHICKEN
Does exactly what it says, it's tempura coated crispy chicken, with a delicious glaze of lemon, orange or sweet and sour to add a citrus twist to your meal.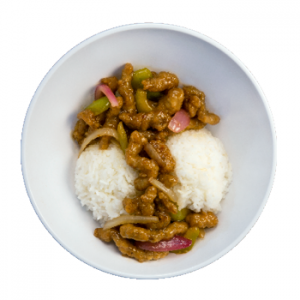 GINGER BEEF
Lightly fried and large strips of beef in a light, sweet ginger glaze with pepper and onions, this ginger beef knocks the socks off any ginger beef you've had before.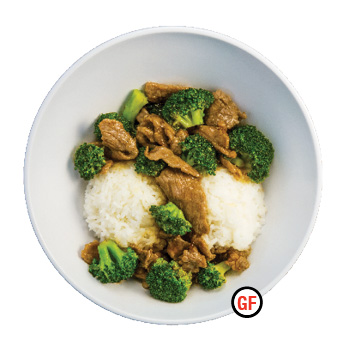 MONGOLIAN BEEF & BROCCOLI
Anti-gluten lovers rejoice! Our Mongolian Beef & Broccoli doesn't come in lunch size but the sweet garlic, ginger, tender beef and broccoli florets will fill your soul with delight.
*depending on location, brown rice may incur surcharge.