Whether you are looking for fiery hot, sweet or mild heat, we've got a noodle dish that will satisfy your every craving. Each of our signature stirfrys are wokked over fire and made with the freshest and most flavourful ingredients.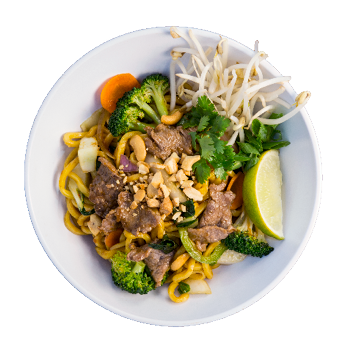 SINGAPORE CASHEW
Coated in a Sriracha peanut sauce and topped with cashews over succulent hokkien noodles, our Singapore Cashew is mild in heat but big in flavour.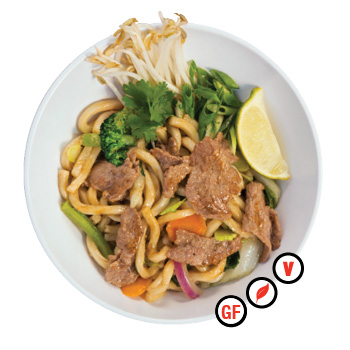 SWEET MONGOLIAN
Lightly bathed in our flavorful ginger garlic glaze. Served over vegetarian-friendly udon noodles, our Sweet Mongolian is the favorite of many.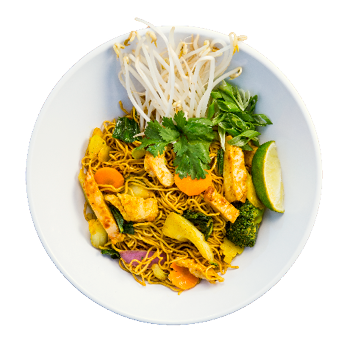 HONG KONG SPICE
Enjoy the complexity and flavour of our 18 spice curry blend over chow mein noodles and be prepared to be transported* to the famous Hong Kong street food markets.
*we won't actually transport you to Hong Kong, but you can with airfare and a credit card.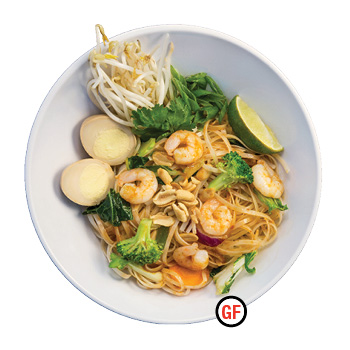 PAD THAI
Our delicately balanced tamarind sauce will delight your taste buds with tangy pleasure.
Served over gluten friendly ribbon noodles and topped with peanuts and a ginger soy egg, our Pad Thai brings a taste of Thailand to a location near you.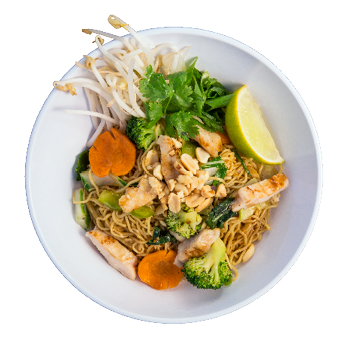 KUNG PAO
Our top seller bar none, the Kung Pao keeps people coming back time and time again.
The sweet and sour flavours of the soy chili sauce with crushed peanuts over a bed of chow mein means it offers something to please most people.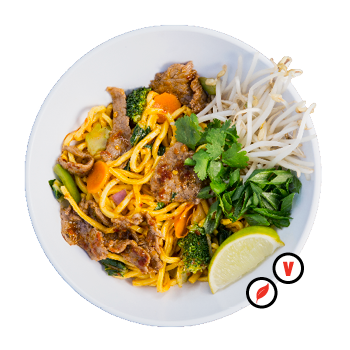 DAN DAN (EXTRA SPICY)
Add a little spice to your life but beware, the Dan Dan is not for the faint of heart with it's bed of hearty Hokkien over our firey hot chili sauce.
*Disclaimer*: The Dan Dan may awaken your inner fire breathing dragon.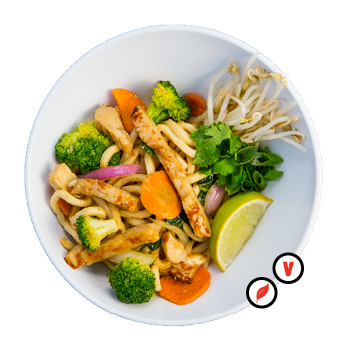 TERIYAKI
A staple of any good Asian restaurant, enjoy the slightly sweet side with the Teriyaki's soy based glaze over udon noodles and the protein of your choosing.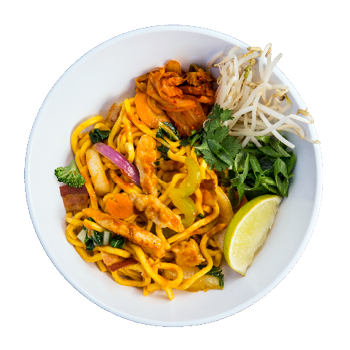 FIRECRACKER
For the bacon lover among you, the Firecracker is aptly named bringing with it the heat of a Korean pepper sauce over our thickest noodle, Hokkien.
---
 NEW TO NOODLES?
HOKKIEN – Originally created by Hokkien Chinese, our thickest noodle is commonly found in malaysian food and is popular because of its ability to soak up flavours from sauces making a delicious stir fry.
RIBBON – Rice based ribbon noodles are most popular for being gluten-free but what they lack in gluten they make up for in deliciousness.
UDON – Originating from Japan, Udon noodles are thick and flavourful noodle made from wheat flour and are a popular choice for vegetarians.
CHOW MEIN – the most common of stir fried noodles, Chow Mein noodles are the most common noodle, often a staple part of Chinese restaurant dishes.